Nutrition as a mission
At Semhof you get 100 percent everything from a single source and from selected areas: From selecting the right location for the respective products, controlled sowing and exclusively mechanical weed control, batch harvesting of individual fields, to storage and bottling with precise analysis evaluations, everything is controlled and can be fully traced. This is what makes us so special.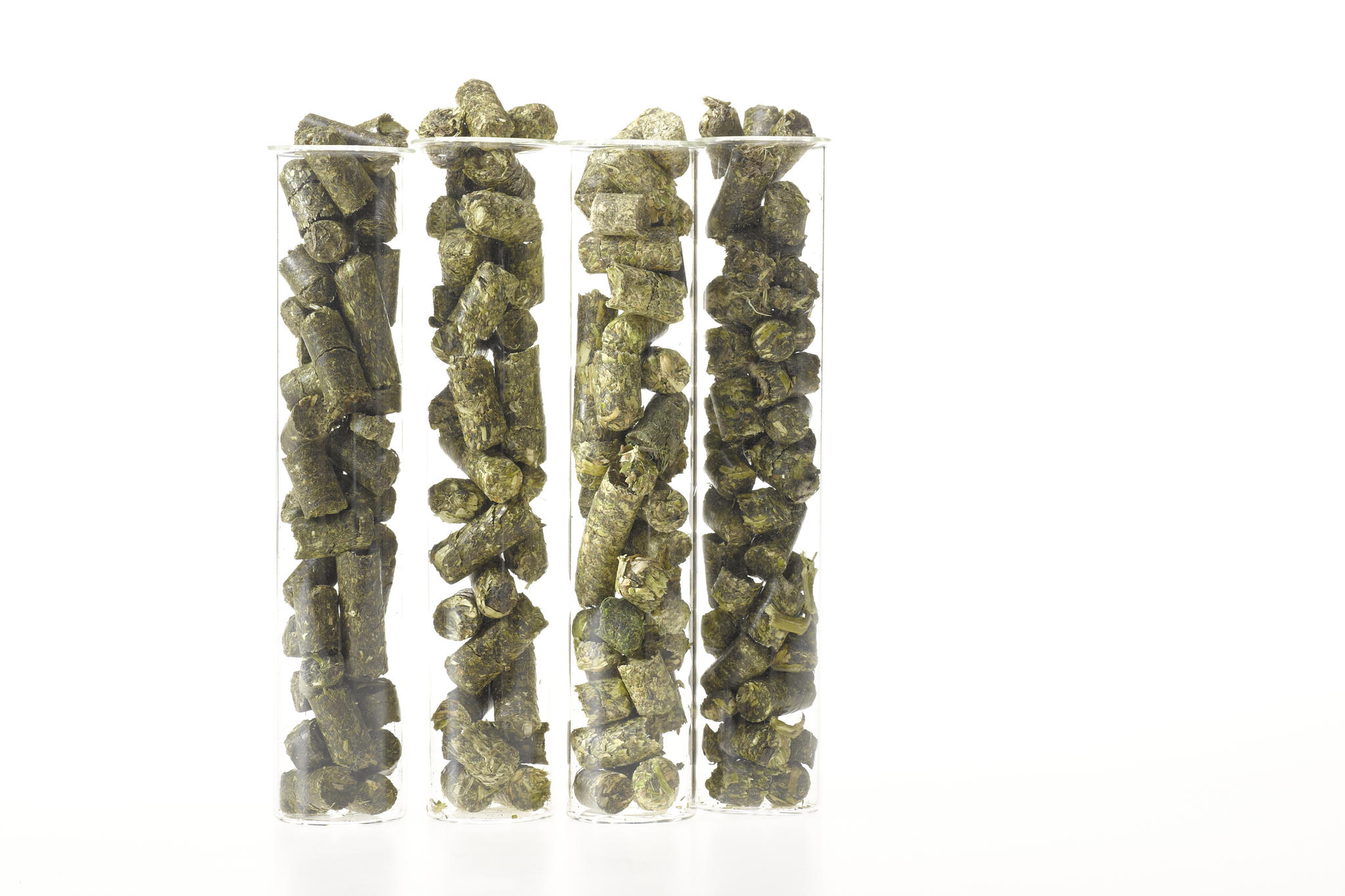 Unique: Exactly what we measure is exactly what you get

As a premium feed supplier, we analyse each step individually and wet-chemically, so that you know exactly what the analytical components of the feed are in the various batches. We assure you absolute transparency and batch clean production as well as storage and offer supplementary qualified advice and parallel seminars. Our demands are uncompromisingly high and so should yours!
Toxic plants and toxins
In order not only to prevent the contamination of poisonous plants and toxins, but also to be able to reliably rule out any occurrence in our feed, each harvest is individually checked by me before and after cutting by means of a field survey and only then released for production.
In the meantime, a major public discussion has been sparked on the suitability of alfalfa by the pyrrolizidine alkaloids found in samples from the Allgäu region due to contamination with ragwort (jacobaea vulgaris). For this reason, in addition to the previous measures, we have started to test our products by means of a very complex and expensive DNA screening or to have them broken down. In this way, even the smallest traces of any desired or undesired ingredient in the feed can be identified and detected. This also applies to all plants, cultures, fungi, etc. contained in the feed.
A further problem is the incompatibility as well as the endophyte and ergot load in ryegrass and other fast-growing grasses such as fescue. The strong toxicity that can arise in these grasses is now being intensively researched and has already been scientifically confirmed several times. At this point we can already say that our hay and meadow cobs do not contain ryegrass or fescue!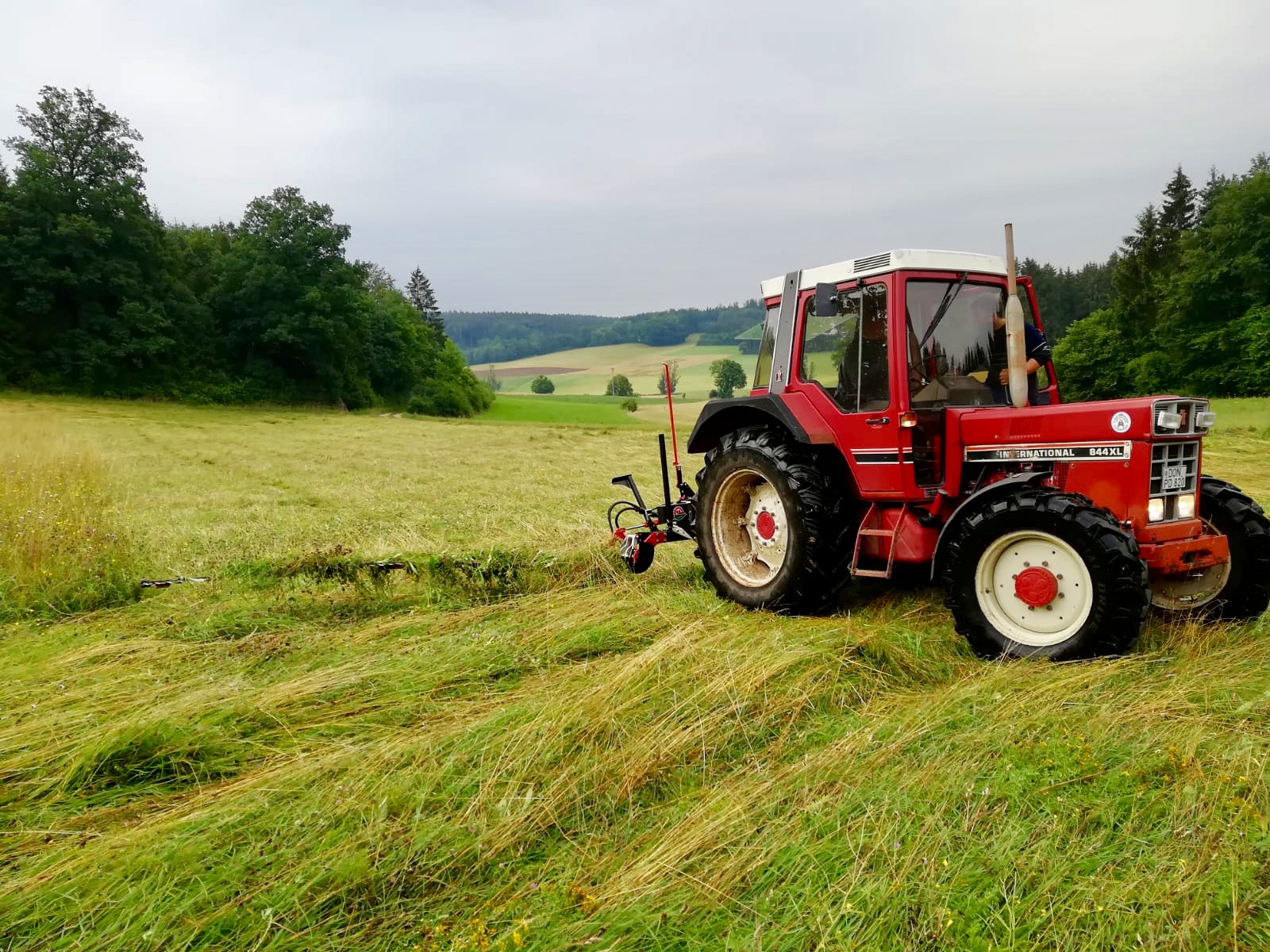 Double blade mower for our hay pellets
Conventionally, harvesting is carried out with a drum or disc mower, also partly with direct swath combination. Many insects, amphibians and other sensitive animals have found a habitat, especially in the hay meadows (for the haycobs) mown at the beginning of July and very species-rich. Due to normal mowers, a very high mortality rate of the populations can be assumed just at this harvest time. With minimal power requirements we mow these areas with a highly modern, fauna-friendly double knife mower. In addition to the animal- and forage-friendly treatment, this offers the advantage that even molehills are not distributed throughout the entire forage as is the case with rotary mowers. After cutting, the forage simply falls over and lies loosely on the surface. Insects in the forage can now work their way out of the forage and look for a new location in the surrounding area. Also for the alfalfa we use the double knife mower if possible.
Once the products have been harvested and dried, we regularly pack the pellets and cobs in standard containers of 3 and 20 kg in food-safe paper bags. We have the lucerne chopped pellets repacked into 20 kg blocks with practical pre-cut 1.5 and 2 kg packages for easier removal.
Daily shipping with our shipping partner DHL and our in-house forwarding agent enables fast and transparent processing, so that your feed is delivered directly to the desired shipping address with relatively short processing times.